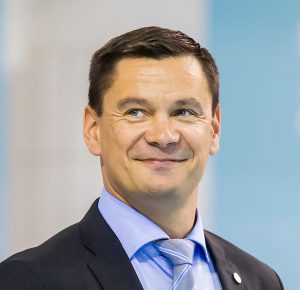 Sami Wahlman
(FIN)
Biography
LEN Masters Committee Member since 2008.

President of the Finnish Swimming Federation since 2013, Vice-President in 2012, Board Member in 2010-11, Member (2003-2006), then Chair of the Technical Committee (2007-2013).

President of the Nordic Swimming Federation (2013-14), member since 2012.

Chair of the OC for the 2018 European Junior Swimming Championships in Helsinki and the OC for the 2014 European Junior Synchro Championships, worked in various roles in the organising committees for the 2000 European Aquatics Championships and in the 2006 European Short-course Swimming Championships.

Swimming referee at national level since 1991, FINA referee in swimming since 2007 and in open water swimming since 2011, was Chief Referee in OWS at European Masters Champs (2009-2016), Technical Delegate for SW and OWS in 2018.

Graduated in Mechanical Engineering, Industrial Engineering and Management.